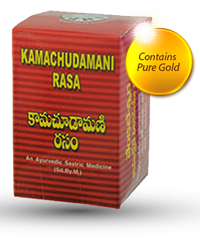 Kamachudamanirasa A blessing of virility and verve to men. Reproductive health of men is equally vital for conjugal bliss. Be it for celebrating...
more info
Kamachudamanirasa When pleasure is derailed Conjugal bliss and the process of procreation entail healthy reproductive system of both partners to...
more info
Ratnapurusha Lehya Sooner the better Sexual disorders in men take a toll on marital relationships. While underlying urino-genital health, personal...
more info